It is clear that improvements to home security reduce domestic burglary. As the front door is targeted in 67% of all attempted burglaries, a strong front door security system is essential in order to prevent your house from becoming a target for thieves.
Different front door security devices have different merits and it is vital to choose the ones that best suit your home and lifestyle.
What security devices prevent forced entry?
One of the most commonly used front door security devices, door chains are designed to prevent a trespasser from gaining entry to your house once the door has been opened. A variation on the traditional door chain is a door limiter, which is slightly stronger. Although door chains and limiters are better than nothing and convey the message that the owner of the house is committed to improving their home security, they do not offer as much protection as a closed door and are of little use in a burglary.
If you're looking to increase the strength of your front door when it is closed, consider installing a reinforced lock bar. This spans your door and is attached either side, making it much more difficult to force. Reinforced lock bars are especially resistant to any attempts to kick or barge the door in. They are also a good choice for securing internal garage doors.
It is easy for a burglar to insert a tool through an unprotected letterbox and steal nearby possessions or even open your front door. This can be prevented through the use of a guard – a metal cage that encases your letterbox and catches post while denying burglars access. If you don't have a letterbox guard, make sure that you never leave your handbag, purse, keys or phone close to the front door.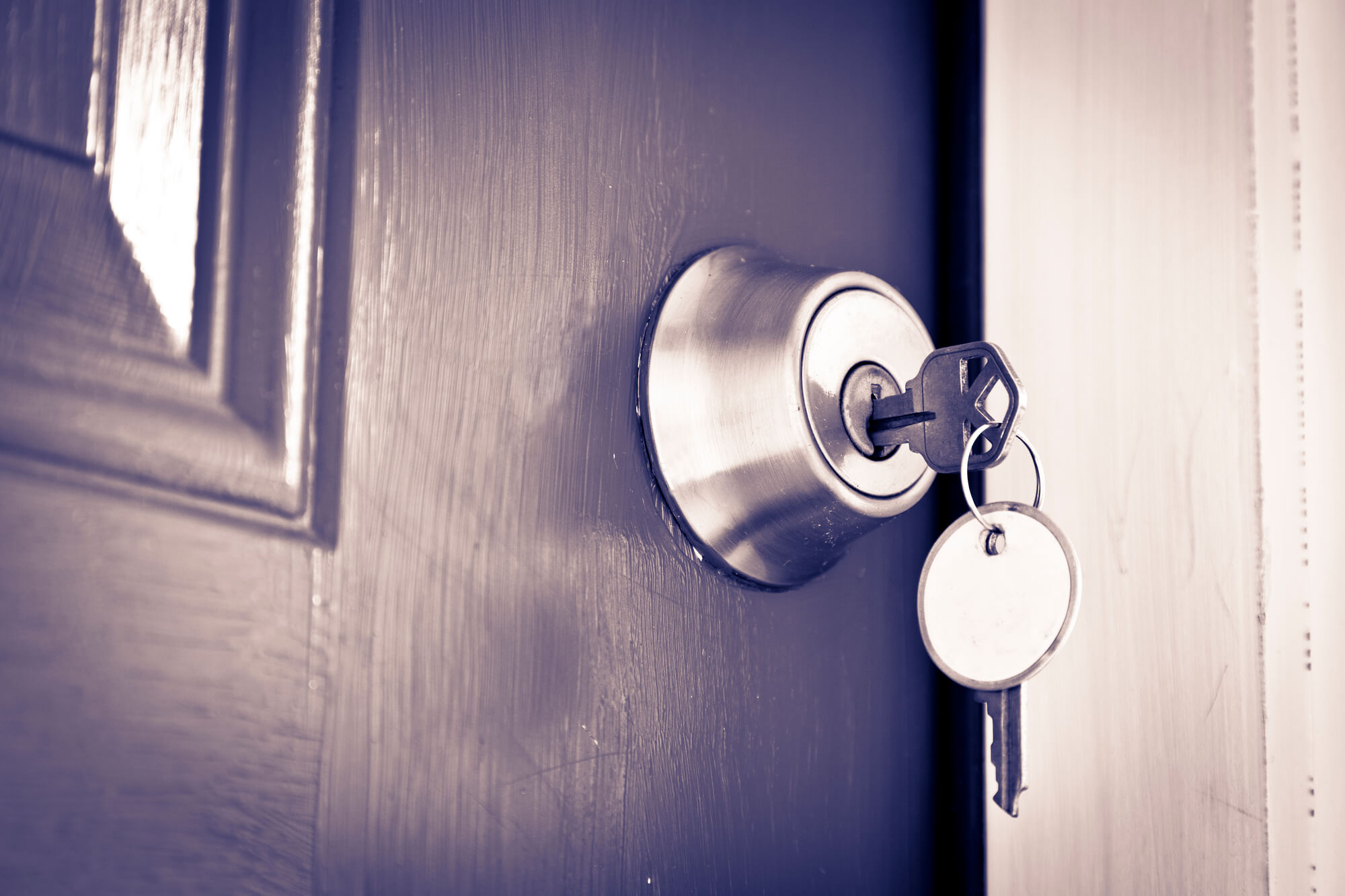 What other front door security devices can I use?
It is not uncommon for burglars to knock on your front door and then barge inside once opened. For your own peace of mind it is worth investing in a spy hole in order to see who is outside your home.
Spy holes are especially useful if you live in a flat and have no windows to look and determine a caller's identity. If you are home alone and a stranger knocks on the door, you will be warned in advance.
Due to their often exposed and street-facing position, burglars who target front doors usually do so under cover of darkness. UK burglaries increase by 36% when the clocks go back for just this reason. Automatic porch lights are therefore an excellent means of discouraging intruders.
If your front door looks well-lit, well-maintained and generally secure, burglars may well think twice before making an attempt at forcing entry.
Which types of door can accommodate front door security devices?
Though most doors are suitable for the majority of front door security devices, for optimum security consider:
Rockdoor composite doors – the famous 'door that beat the bobbies',

Rockdoors

are so secure that their manufacturer had to issue an official statement to the emergency services for safety reasons, in order to inform them which power tools they would need to cut their way inside in an emergency. Rockdoors contain hook locks that are connected to the solid steel of the door frame, meaning that they cannot be forced.

Hormann entrance doors – not only are these doors high security, but they also offer excellent thermal insulation, enabling you to stop intruders from getting in and heat from getting out at the same time.

Hormann ThermoCarbon

doors boast concealed hinges and a 9-point locking system for optimum safety.
At SDM doors we source some of the most secure front doors on the market and fit them with high quality security systems to give you the ultimate peace of mind. Get in touch to discover how our team of experts can help you secure your home against intruders.