The popularity of bifold doors is soaring – and it's no wonder. Bifold doors make an attractive impression and can add a touch of luxury to any home with their sophisticated, modern appearance.
When well placed and properly measured and fitted, bifold doors can provide an airy atmosphere that lets in large amounts of natural light, opening up a room and providing a glimpse of the outdoors. For this reason external bifold doors that lead out onto gardens and patios are hugely popular.
Some of the advantages of bifold doors include: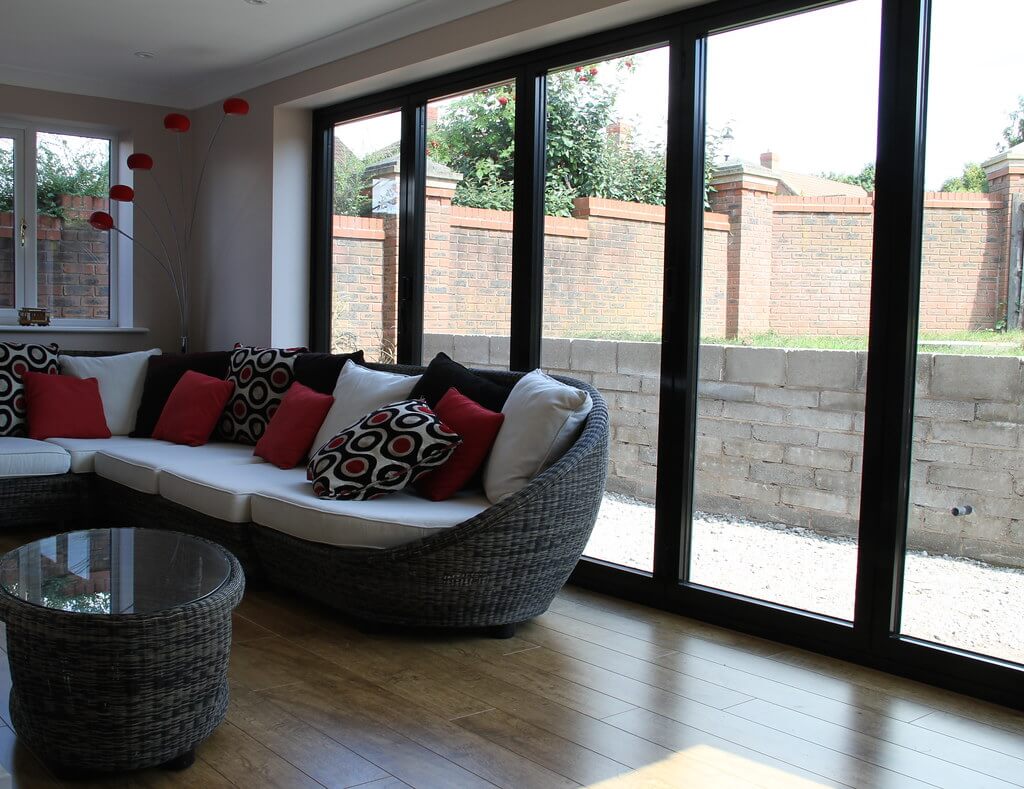 Glass doors are perfect for creating an attractive environment within your home


They let in light, reducing the need for artificial lighting and reducing energy bills

When well fitted, bifold doors are draught resistant, which reduces the need for heating

They can be opened partway, providing a good means of ventilation in summer

They can be equipped with security hinges and shoot bolts, making them more secure than standard patio doors
External Bifold Door Sizes
Although they are relatively easy for non-professionals to fit, it can be a little difficult to work out the perfect size for your bifold doors. When trying to work out the external bifold door sizes that you will need, it is often helpful to take into consideration the fact that this style of door requires fitting with great precision in order to function as they should.
Standard door sizes are measured not in centimetres, as you might expect, but in millimetres. This is for two reasons:
For a more precise measurement, thereby reducing gaps and making sure that you have the most energy efficient external bifold door possible. Even well constructed double glazed bifold doors cannot keep heat in if they are poorly fitted, wasting heat and increasing your energy footprint

The measurement of external bifold door sizes in millimetres also helps to ensure that your door is secure and difficult to break into. Burglars faced with bifold doors often attempt to lift them off the runners and up and out of their frames. If the bifold doors are fitted correctly, however, there will be minimal space between the top of the door and the frame, resulting in a safer house
As bifold doors have faced criticism due to their lack of security and energy efficiency, it is vital to ensure that yours are correctly measured and fitted, both to save money on energy bills by preventing the needless waste of energy and also to increase the overall security of your home by having a robustly fitted door.
Custom Bifold Door Sizes
If you are struggling to find the perfect bifold door size to fit your home, custom bifold door sizes might be the solution to your problem.
It is sometimes problematic to accommodate standard bifold door measurements, particularly if you are installing a bifold door in a period property. Homes that were built decades or even hundreds of years ago naturally do not conform to modern construction standards and measurements, and if this is the case for your property you may be well suited to a custom bifold door.
Custom doors can be created to your exact specification from the highest quality materials, including steel and aluminium frames as well as double glazed windows, with security hinges and bolts for an elegant, functional and burglar-proof addition to your home.
At SDM doors we sell a wide range of secure and energy-efficient bifold doors that will transform the appearance of your home. If you'd like to find out more about our selection of bifold doors, please get in touch and our team will be happy to help you.