Conservatories & Orangeries
A Wide Range of Conservatories and Orangeries Available
Conservatories & Orangeries
A Wide Range of Conservatories and Orangeries Available
Conservatories & Orangeries
A Wide Range of Conservatories and Orangeries Available
Conservatories & Orangeries in Hertfordshire & Bedfordshire
Although conservatories and Orangeries are considered by many to very similar there are some big differences between the two glass structures. Orangeries were originally designed to allow people in climates similar to the UK to grow citrus trees and although an orangery is technically a form of conservatory, Orangeries tend to be built with more substantial proportions and include a semi-solid roof.
Bespoke Orangeries tend to be built with more brickwork or wooden sections, usually with full height pillars creating a feeling of luxury and can sometimes blend better with a property, whereas conservatories are still seen more as a garden room due to the large amount of glass they use.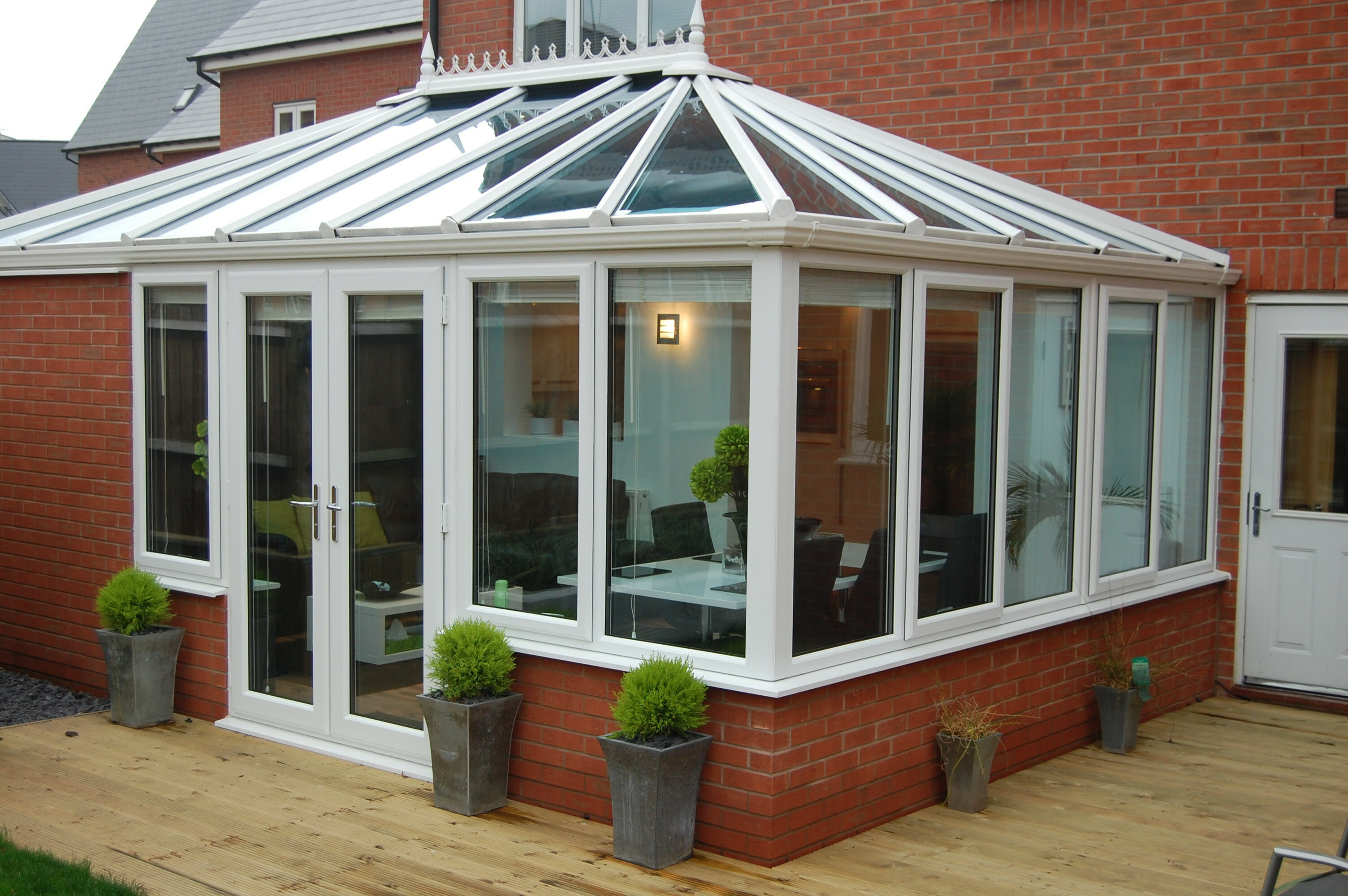 Long gone are the cheap plastic structures that were simply bolted on to the back of a property.
Today's modern conservatories are often seen more of an extension of your home and come in a range of styles, shapes and materials to suit.
There are however, a few fundamental styles which are considered the main types of conservatory.
They are:
The Victorian Conservatory
The Edwardian Conservatory
The Gable Conservatory
The Lean-To Conservatory
The P-Shape Conservatory
There is a style for every property type within this mixture of traditional and contemporary conservatory designs.
Victorian & Georgian Design
The Victorian design is a traditional design. The Victorian conservatory can be distinguished via it's pitched roof and multi-facet design. This conservatory is designed to give a great panoramic view of your garden and patio, perfect for creating that indoor-outdoor atmosphere.
The Edwardian design is more straightforward and understated. It uses flat walls and clean lines to provide your home with a room that prioritises space.
The design is symmetrical, giving you the flexibility to use the room for plenty of purposes. If your home currently feels cramped or lacks light, then this design can provide all that and plenty more.
The simple design makes it easier not only to fit but to work around any planning permission restrictions you might have. Additionally, you can get a 'back-hipped' roof for the space that connects it with your property's roof. That way, you'll not only blend your new area in seamlessly with your home, but they'll drain away rainwater through a shared box gutter.
Gable Conservatory
The Gable style can give your home a space that makes a lasting impression. These are bold, grand designs that use a vertical roof and decorative finishes to add timeless class to your home. Not only that, but they'll use advanced materials, such as double glazing, to add modern performance to your living space.
Gable designs can light up any area of your home. That's because they use slim frames and large panels of double glazing. As a result, you'll get beautiful views, and you won't block any natural light from entering your space. As a result, you and your family can enjoy a room that's warm and comfortable.
When the weather turns, however, a Gable conservatory can help insulate your home from the cold. That's because they are air and water-tight, stopping either draughts or dampness from entering your space. Additionally, your double glazing and frames will be weatherproof, and they won't wear down under even the worst conditions.
As a result, you'll be able to enjoy a space that you can use every day of the year. Gable designs do cost more than the other main types of conservatory, however, the striking design and brilliant performance is truly worth it, and you can save plenty of money on your energy bills to help pay this back.
Lean-To Conservatory
If you have a smaller home, or your budget's tighter, you may think that adding a conservatory isn't an option. However, the lean-to build is perfect for any space, as it uses a straightforward design to fit just about anywhere. They use a flat-roof and a squared-off design with vast amounts of double glazing to give you extra space no matter your home's size.
The flat angled roof is a particular benefit of this style. With this roof, you get a slight downward slope that rain can slide off. The design gives the impression that your new space is leaning up against your home, hence the name. With our network, you can select a wide variety of materials for your roof, such as tiles, that can help to keep your space warm.
As well as that, they'll also give you greater control of how you light and use your space. The versatile styling also helps your new addition suit your property, with the flat roof being perfect for bungalows. You could use the space as a dining area or lounge to relax in or as an extension into your garden that feels seamless.
However, perhaps the most significant benefit of the lean-to design is that it's the cheapest of the main types of conservatory. Additionally, they use the same advanced materials as our other styles, meaning you can still create similar savings for your home.
P-Shape & T-Shape Conservatories
With Conservatory Online Prices, you don't have to stick to a traditional space. If you want to add a room to your home that uses a more bespoke floorplan, then you can add a P-shaped or T-shaped conservatory. These designs have different shapes to extend out further into your garden and to give you and your family more room in your home.
A P-shaped build essentially combines the Lean-to and Victorian or Edwardian designs into one innovative design. The layout gives you brilliant flexibility and the opportunity to customise your new addition. For example, you could add a woodgrain finish or other beautiful accessories with our suppliers to give your space a personal touch.
Alternatively, the T-shaped build is perfect for adding a sizeable space that expands your home significantly. The design uses a curved central bay that lets natural light flood into your space. You can fit a T-shaped build in either the Victorian, Edwardian or Gable style too. That means you can add a larger space without having to sacrifice the design you want.
With Conservatory Online Prices, you can take total control of the design of your new structure. The majority of our suppliers let you select colours, materials, finishes and much more to make sure your new space is entirely bespoke. No matter your selection, our network will ensure you get a stunning space that transforms how you and your family use your home.
Need our Help?
Get in touch with us today to enquire about our conservatories and orangeries.
CALL 01442 388955 or COMPLETE THE ENQUIRY FORM